Dusu Fest Needs You!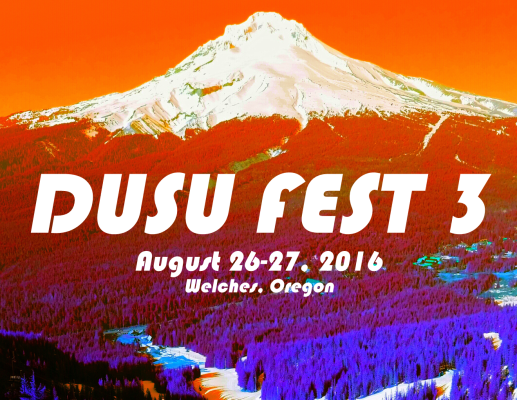 We need your help…
Please donate now at http://bit.ly/DusuFest3!
We have launched a fundraiser for Dusu Fest 3, and we need your help to make it all happen. Click here or on the link above and check out our short video that explains it all.
This year we would like to again host six to eight bands, and also bring back the same quality sound, lighting, and fabric art as last year. We're looking to raise enough money to cover the festival expenses (honey buckets, etc.) and also pay all the artists and crew.
We've come up with several ways for you to support the festival today, regardless of whether or not you decide to make the trip.
First off, if you're in Portland and free Friday June 10th, come on out to our Fundraiser show at the Skyline Tavern at 7pm! They have a great outdoor area with horseshoes and a community grill. Dusu plays two sets. The address is 8031 NW Skyline Blvd, Portland, OR 97229.
If you're planning on coming to Dusu Fest in August, go ahead and purchase your admission here (and camping if you're planning on staying–it's limited so snatch it up now!).
If you're not able to make it to the festival this summer, please support us from afar by picking up the "Poster & T-shirt" package here. They make great gifts too!
There's also a couple other options to donate, such as music lessons from the band, yoga gift certificates (for both adults and kids!), and having Ibu delivered to your doorstep in a giant cake. Okay we didn't actually do that last one, but you definitely can get a private Dusu show at your event.
If you aren't able to donate, no worries. You can still help simply by sharing this fundraiser with others. Just send them the link: http://bit.ly/DusuFest3
Also, if you'd like to be involved with the event (performance, workshop, volunteering, etc.) please get in touch now. Contact us at info@dusumaliband.com and let's get the ball rolling.
Please donate today!
Thank you for all that you do!
Much love,
Dusu